Week One….
It has been my experience that many people want to eat a healthier diet, but they just don't know where to start.  With the artificial inflation of food items, the "crap filled" food is much less expensive than the healthier alternatives, and seems to be the first hurdle.  The second would be how we think of food.  In our modern society, we have this mindset that we not only need meat with every meal, but that this meat needs to be the largest food portion on our plates.  However, this has not always been the case. Historically, meats were luxuries that were only afforded during celebrations.  Most meals are heavy on vegetables that were in season.  The key is to live like a historical working class peasant; someone who only buys refined treats for special holidays and celebrations.  On most days, opt for a vegetable heavy diet without a need for meat with every meal.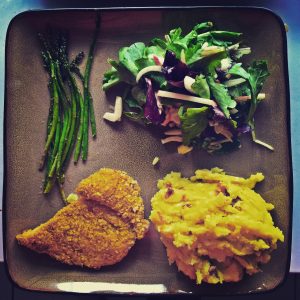 *Learn to eat realistic portions.  Eat until you are satisfied, not until you are bursting at the seams.
*Only buy what your family will eat for the week,  don't overstock and don't cook more than your family will eat.
*Always stock the basics that you will use in multiple recipes and meals to avoid mad last minute dashes to the grocery store.
*Learn how to substitute missing ingredients with ones you have on hand.
Challenge for the week:
This weekend, empty out your cabinets, fridge, and pantry and place it all on the kitchen table.  See what items you already have and make a list of meals you could make.  If you are missing one or two ingredients, make a secondary list to take to the grocery store.  After you sort through what you have and what you need to complete those meals, take your grocery list and purchase ONLY those needed items to complete your meal planning for that week or two weeks.  You'll be surprised just how much money and food you will save!